You are currently browsing the tag archive for the 'Chris Tse' tag.
So, the New Zealand Arts Festival is upon us and this year, I'm appearing in the Joy of Queer Lit Salon. Here are the deets – all welcome. Maybe see you there!
When: Saturday 7 March 2020 8:00pm – 9:00pm
Where:Michael Fowler Centre, 111 Wakefield Street, Wellington
What: Chris Tse hosts the Joy of Queer lit salon with authors Victor Rodger, Janis Freegard, Emily Writes, Jackson Nieuwland and Alison Glenny. Delving into the history and canon of queer texts our authors reveal the books that set their hearts a flutter and which writers paved their literary way.
(Andrea Lawlor was going to be there too, but unfortunately has had to cancel for personal reasons).
Part of the New Zealand Festival of the Arts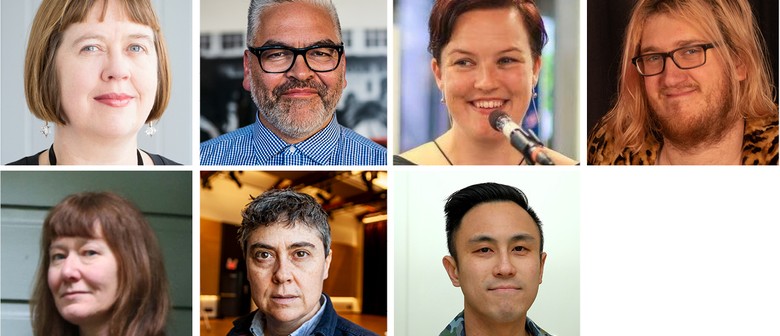 There are loads of fantastic events at the Festival. It's going to be great!
Very excited to see that the AUP New Poets series is cranking up again. This is such a great poetry series and I'm delighted to be a part of it (I was in AUP New Poets 3, back in 2008). It's a great way to get to know new voices and I'm so pleased Auckland University Press is relaunching it. There's a New Poets 5 coming out later this year (with a fresh, new look) and a New Poets 6 in the making too! The wonderful Anna Jackson (who featured in AUP New Poets 1) is editing.
Carolyn de Carlo, one of the AUP New Poets 5 authors, has arranged a reading of past and present "New Poets" at Millers O'Brien gallery in Victoria St. in Wellington (1/85 Victoria St, upstairs, near the Lido) this Tuesday 18th June 2019 at 6:00pm. I'd love to see you there. Here are the deets from Food Court:
"Food Court is proud to present their latest event, an evening of readings by Auckland University Press writers who have been featured in the New Poets series, relaunching with Vol. 5 in August 2019. Consider this a sneak preview of what will be on offer in Vol. 5 and beyond, and a look back at some absolute bangers from over the years.
Current Lineup:
Carolyn DeCarlo
Sophie van Waardenberg
Rebecca Hawkes
Chris Tse
Janis Freegard
Anna Jackson
+ a few surprises!
There is a working lift at the gallery, but there will be limited seating available (8-10 chairs). Please arrive early if this applies to you, or let us know ahead of time, and we will do our best to accommodate all needs and circumstances!"
Here's the list of AUP New Poets to date:
AUP New Poets 1: Raewyn Alexander, Anna Jackson, Sarah Quigley
(currently listed on Amazon for $149.50 for a used copy (!!!), so clearly a collector's item)
AUP New Poets 2: Stu Bagby, Jane Gardner, Sonja Yelich
AUP New Poets 3: Janis Freegard, Katherine Liddy, Reihana Robinson
AUP New Poets 4: Harry Jones, Erin Scudder, Chris Tse
AUP New Poets 5: Carolyn de Carlo, Sophie van Waardenberg and Rebecca Hawkes
LitCrawl is coming! The big night is this Saturday 10th November 6pm – 9:30pm, where literary excitement will be descending upon all manner of interesting venues around Wellington.  There's other terrific stuff happening before and after too. Today the Meow Gurrrls  interviewed the inimitable Chris Tse about his role as guest curator. It's going to be a blast!
This Saturday, I'll be at LitCrawl. If you're in Wellies, you should be too.
I shall be reading at Hashigo Zake 25 Taranaki St at 6pm with the stunning line-up of Chris Tse, Gem Wilder and Emma Barnes.
When you write from a minority perspective, whether it's your sexuality, your gender, your mental health or something else about you, there's an expectation you'll perform those parts of yourself.
We choose what parts of ourselves we offer, reveal and share. We decide what we gift of ourselves to the audience. We're not just queer writers. We're writers. We're not just genderqueer writers. We're writers. We're not just mentally ill writers. We're writers. We're all of these things and none of them. Come along to hear some writing loosely organised along non-heterosexual lines across genders and experiences.  We're wrapping up ourselves as gifts and we'll rip the paper too.
Featuring Chris Tse, Janis Freegard, Gem Wilder and Emma Barnes.
There are rumours  that at least one cape may be involved and I can neither confirm nor deny the possibility of a hat. But hey, if that doesn't tickle your fancy, there are are many other exciting LitCrawl options to choose from and you can read all about them here:
http://www.litcrawl.co.nz/litcrawl.html
A couple of weeks ago I posted a poem by Chris Tse from the recently released collection 'AUP New Poets 4'.  To find out more about his poetry, his trip to China and what else he's doing these days, read on…
Your collection in AUP New Poets 4 is called 'Sing Joe' and this is also the title of two of the poems.  Can you tell us a bit about that title.
'Sing Joe' is a transliteration of the Chinese phrase 'to have the surname Joe' (the family name on my Mum's side). Also, music is a strong influence on my writing so it seemed appropriate.
 Many of your poems draw on your own family stories and your great grandfather's immigration to New Zealand.  Some of the most poignant poems in the book (for me) were the ones about your great-grandmother, left behind in China.  What led you to focus on these family stories and what sort of reaction have you had from family members?
In the first week of my MA year I wrote a poem about my great-grandfather as part of a writing exercise and from that point on my classmates encouraged me to explore this topic. It was an area I had consciously avoided writing about because I thought no one would be interested, but I soon realised that these stories deserved to be heard, and that there is an audience for them.
My family have been really supportive and generous with letting me share these stories. Hopefully they see that I've approached it with the utmost respect for my ancestors, especially since I have written about some fairly delicate moments in their lives. My great-grandparents' situation wasn't uncommon back then – many Chinese men remarried when they came to New Zealand because it was near impossible to bring their wives out too. My great-grandmother wasn't mentioned much when we were growing up so these poems were a chance to give her a voice.
 You spent a month in China as part of your research and you explore that experience in poems like 'Deracinate'.  Can you tell us more about your visit to China and how it shaped the poems in the book?  Was it your first visit?  
 The NZ Chinese Association holds an annual tour to China for young Chinese New Zealanders. It's a chance for them to visit China and connect with their roots in addition to experiencing Chinese culture on a number of levels. I was a member of the 2005 group along with 39 others, including my brother and a cousin. We left for China just weeks after handing in my final folio for the MA. It was my first time there, and though I enjoyed the trip I won't be rushing back anytime soon – for now I feel like I've gained all I need from China. Maybe in a few years I'll feel the need to reconnect or explore further.
My Aunty, Janet Joe, has been the tour guide since its inception and part of her job is to help people find where their ancestral villages are. That aspect of the trip was by far the most memorable experience for me and, having spent a year writing and thinking abut my ancestors, being in my great-grandparents' house was like coming full circle. The experiences and memories I gathered on that trip helped to revisit the poems I'd written from a new perspective. For example, 'Deracinate', in its finished form, is actually a composite of material written before and after the trip.
 What's next on the agenda with your writing?
 I've had a few ideas for future poetry collections, but I've settled on one to focus on this year. I've just been accepted into the NZSA's mentor programme so that's going to be the much-needed motivation to get on with it. In addition to poetry I'm also working on a feature film script that's been brewing for a few years and I'll continue tackling the scary world (for me at least) of short stories. My mum of all people keeps nagging me to move into fiction!
 Do you set aside a particular time and place to write?
 I've tried being one of those writers that sets aside time everyday but I find that it ends up being too much of a chore and counter-productive. Like most writers I have my lulls in output, but it doesn't bother me as much as it did when I started writing seriously –  I've always got so many projects in the pipeline that I always feel like I'm working towards something. With the mentor programme this year and the goal of finishing a new collection I'll need to be a bit more disciplined but I guess knowing that someone will be expecting me to produce work will help.
 What occupies your time when you're not writing?
Aside from the shackles of a 9-to-5 job I've been working on an online TV series with my filmmaking friends. I'm constantly tinkering away with music too and have a few projects on the go at the moment. I'm an avid Ultimate Frisbee player too so one day I might have to try my hand at writing the definitive Ultimate Frisbee poem!
Thanks Chris! Great to see one of your poems in Wellington newspaper The DomPost today.
 
Splintered roots,
new roots and
shadows cast on past lives.
But shadows don't erase
they just conceal and feed
the knot at the back of his head.
Strings across land and sea
tied to the feet of his first wife,
the new bride poised with scissors.
Chris Tse is a Wellington poet and one of three authors of the joint publication AUP New Poets 4 (Auckland University Press).   Chris' collection in the book, Sing Joe, is centred around family stories concerning his great grandfather's migration to New Zealand from China, and his great grandmother who was left behind.  The poem above gives us one peek into this story.  You'll need to read Sing Joe in its entirety to find out the rest – and it's well worth the read.
As well as writing, Chris is an editor, actor, musician and occasional filmmaker. He studied English literature and film at Victoria University where he also completed an MA in Creative Writing. In 2009, he won the NZ Chinese Association/Listener short story competition.
Happy Birthday Tuesday Poem
The Tuesday Poem bloggers are celebrating our first birthday this week (thanks to the tireless efforts of Mary McCallum), by writing a collaborative poem.  You can watch it unfold by clicking on the quill above.
AUP New Poets 4 will be out soon, featuring Harry Jones, Erin Scudder & Chris Tse (published by Auckland University Press).   I don't know the other two poets, but I was in a poetry workshop with Chris Tse a few years ago and he's very good.
It will be launched at Te Taratara ā Kae in Victoria University's Rankine Brown Library on 17th March 5pm – 7pm.
Here is a link to the event on Facebook http://www.facebook.com/event.php?eid=186779171356102
and here's a description of the contents:
"This fourth in AUP's New Poets series includes three very different voices. Chris Tse's work draws fascinatingly on his family history and Chinese heritage. His selection, 'Sing Joe', includes narrative poems about his great-grandparents' emigration to New Zealand and about his own childhood and his research to uncover their story. Erin Scudder writes sophisticated, dark and flavoursome poetry with close attention to the sound and shape of words. In its treatment of motive and emotion her work feels at once personal and universal, specific yet interested in archetypes and tropes. Harry Jones writes accomplished, elegant, formally adept work. He has a flair for the gorgeous lyric, but his selection, 'Beyond Hinuera', also has a subtle range. Together the work of these three writers feels substantial and pleasingly distinct."
The series is a great way to get to know the work of new poets, three at a time.  I was in AUP New Poets 3 with Katherine Liddy and Reihana Robinson; Volume 2 featured Stu Bagby, Sonia Yelich and Jane Gardner; and Volume 1 had Raewyn Alexander, Anna Jackson and Sarah Quigley.  Here's to the next volume!