You are currently browsing the category archive for the 'writing' category.
So, the New Zealand Arts Festival is upon us and this year, I'm appearing in the Joy of Queer Lit Salon. Here are the deets – all welcome. Maybe see you there!
When: Saturday 7 March 2020 8:00pm – 9:00pm
Where:Michael Fowler Centre, 111 Wakefield Street, Wellington
What: Chris Tse hosts the Joy of Queer lit salon with authors Victor Rodger, Janis Freegard, Emily Writes, Jackson Nieuwland and Alison Glenny. Delving into the history and canon of queer texts our authors reveal the books that set their hearts a flutter and which writers paved their literary way.
(Andrea Lawlor was going to be there too, but unfortunately has had to cancel for personal reasons).
Part of the New Zealand Festival of the Arts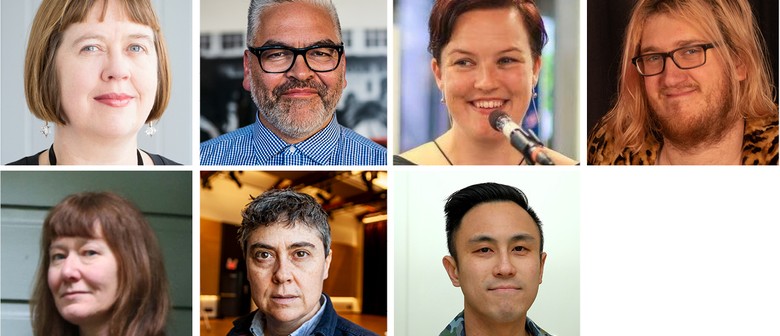 There are loads of fantastic events at the Festival. It's going to be great!
If you haven't seen it already, it's worth checking out Masterton's cool little gallery space in containers, ConArt. It features exhibitions, performance space, working studios and a space for local artists to sell their artworks. Well worth a look if you're over that way (but check opening times first – they're open Weds to Sat 10am – 4:30pm). You can find them next to Aratoi.
There are also poems on the containers and I was delighted when I heard that my poem 'Albatross' (from The Glass Rooster') has been included. You can listen to 'Albatross' here on RNZ. It's based on a real-life female pair, not uncommon in the seabird world.
Thanks to Masterton woman, Chris Daniell, you can now enjoy outdoor poems all over Masterton. Go, Chris!
Lots of poetry coming up next week! First up there's this on Monday (that I will be reading at if my cold has disappeared by then)
NZSA Poetry Reading + Open Mic (warm-up event)
Join the New Zealand Society of Authors, Wellington branch, as we celebrate Phantom Billstickers National Poetry Day 2019. We're inviting poets from our branch to read their poetry, and will also feature an open mic on the night.
Entry details: Koha. Everyone welcome!
Date/times: Monday, 19 August, 6pm – 8pm (Socialising from 5.30pm)
Location: Vic Books, Pipitea campus, Rutherford House (27 Lambton Quay, Wellington, near the railway station)
Contact: wellington@nzauthors.org.nz
Further info: Facebook/wellington.writers.9 | authors.org.nz/about/branches/wellington-branch
Then there are lots of fabulous events all around the country on National Poetry Day which you can find out about here: http://www.nzbookawards.nz/national-poetry-day/calendar-of-events/#wellingtonregion
And next Sunday, I will be reading at the Open Book on Ponsonby Road in Auckland. This is from the Open Book website:
Celebrate National Poetry Day with Geometry and The Open Book.
Come along to hear the winner and the judges' selection from submissions to our poetry competition. Plus snacks and maybe a glass of wine if you are lucky.
With readings of work by:
Janis Freegard (the winner!)
and (the Judges' list):
* Dadon Rowell
* Hannah Lees
* Jordan Hamel
* Paula Harris
* Rebecca Hawkes
Sunday August 25, 3pm
Winner published in Geometry Issue Six. Judges' selection published here.
Time to catch up on the latest offerings from the Meow Gurrrls. Here we have Roadside, Bodhgaya by Kirsten Le Harivel
'Timing' by Abra Sandi King
and 'Basket of Seeds' by Sudha Rao.
Enjoy!
In an alternative future, climate refugees struggle to New Zealand in the face of torpedoes and gun-toting shore patrols. Tim Jones' exciting novella 'When We Land' is being launched this Tuesday 16th July 2019 at 5:30 pm at the Pipitea Campus of Vic Books (the one near the railway station). This is the first in The Cuba Press' new novella series. It was first published as "Landfall" by Paper Road Press in 2015. See you Tuesday!

Tim Jones writes novels, short stories and poetry and the blog Books in the Trees.
One of the first poems I ever had published was 'When You're Not Here'. It originally appeared in 'Eat These Sweet Words: the New Zealand Anthology of Lesbian and Gay Poetry' by Publishing Giant Press in 1999. Next, it appeared in my collection, 'The Glass Rooster' (AUP, 2015). Now, here's a clip of me reading it on the Meow Gurrrls Youtube channel. Please feel free to like, share, subscribe to our channel. (Mask by Sally of Masquerade; bird claw earrings by Tomas Richards)
The latest Meow Gurrls video features the wonderful Sudha Rao with her poem 'Manuhiri'. 'Manuhiri' contains a special mihi prepared for Sudha by Matt Gifford. Here's the English translation:
"Mihi
The bird sings
The morning has dawned
The day has broken
Ah! There is life.
This manu (bird) has descended as a manu (bird), as a visitor, as a dancing visitor
Through its dancing feet and its flowing words
Its heart cries, the tears of love
For you the home people, this is your land.
My mother as a feather, my father as a feather
And it's by their feathers this manu (bird) takes flight
Taking flight to the day, and flight to the night
From its own home land
Where the home fire burns, and gives this manu (bird) life."
The Meow Gurrrls are at it again with fantastic new offerings from Mary-Jane Duffy – 'My Monkey Mother' – and Mary Macpherson – 'Palaces'. Enjoy a little poetry with your Easter eggs.