You are currently browsing the tag archive for the 'Janis Freegard' tag.
The Meow Gurrrls poetry group will be reading from our new zine at Photospace Gallery, Level 1 Courtenay Place this Saturday 21st November,
1 – 3pm. Meow Gurrrls reading on the day will be Abra Sandi King, Mary-Jane Duffy, Mary Macpherson, Sudha Rao and Janis Freegard and there will be music from Ainsley Day. The zine also includes work from Rewa Morgan and Kirsten Le Harivel and lovely illustrations by Mary-Jane Duffy. Copies will be available for sale in the gallery.
Hope to see you there! You can also watch our Meow Gurrls videos on Youtube.
Here's a clip of me reading at the launch, from the Wellington City Library's Youtube channel. Always a bit weird to watch oneself!
A few people have asked me where 'Reading the Signs' is available. You can order directly from the publisher, The Cuba Press, at or look out for it in indie bookshops, like Food Court Books, opening soon in Newtown.
Looking forward to reading in Palmerston North with these wonderful Cuba Press poets on Tuesday night 6:30pm 27th October 2020 at the Palmerston North City Library. I will be reading from my new book, Reading the Signs.
I started writing this book while I held the Ema Saiko Poetry Fellowship at NZ Pacific Studio in 2014. Now it's becoming a real thing, thanks to The Cuba Press. The poetry sequence in the book deals with loss and recovery, climate change and gender fluidity. Images (including this remarkable cover) are by the inimitable Neil Johnstone, who will also be playing music with Steve Burridge on the day. The launch date coincides with the last day of Neil's 'Chalk Dogs Have No Names' exhibition – great opportunity for art, music, poetry and a drink in convivial company. 1pm 24 October 2020 at Potocki Paterson in Dixon St. I'd love to see you there. Bring your friends!
So – the Pegasus Books poetry readings are back on in Wellington and this Friday 9th October, I have the great pleasure to be reading with Dinah Hawken, Helen Heath and Sam Duckor-Jones. Hurrah!
6:30pm Friday 9 October 2020
Pegasus Books, Left Bank, Cuba St, Wellington, NZ
Hope to see you there!
https://www.facebook.com/pegasusbooksnz
So, the New Zealand Arts Festival is upon us and this year, I'm appearing in the Joy of Queer Lit Salon. Here are the deets – all welcome. Maybe see you there!
When: Saturday 7 March 2020 8:00pm – 9:00pm
Where:Michael Fowler Centre, 111 Wakefield Street, Wellington
What: Chris Tse hosts the Joy of Queer lit salon with authors Victor Rodger, Janis Freegard, Emily Writes, Jackson Nieuwland and Alison Glenny. Delving into the history and canon of queer texts our authors reveal the books that set their hearts a flutter and which writers paved their literary way.
(Andrea Lawlor was going to be there too, but unfortunately has had to cancel for personal reasons).
Part of the New Zealand Festival of the Arts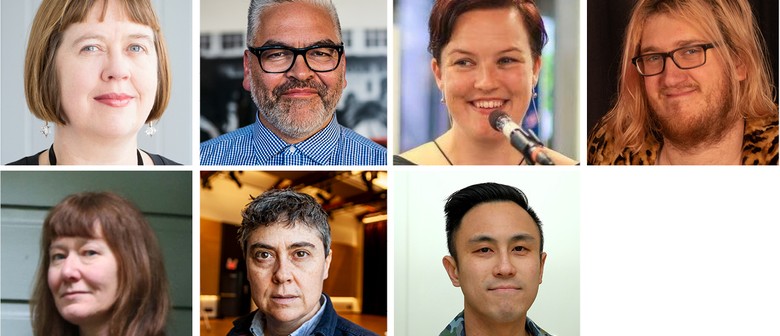 There are loads of fantastic events at the Festival. It's going to be great!
If you haven't seen it already, it's worth checking out Masterton's cool little gallery space in containers, ConArt. It features exhibitions, performance space, working studios and a space for local artists to sell their artworks. Well worth a look if you're over that way (but check opening times first – they're open Weds to Sat 10am – 4:30pm). You can find them next to Aratoi.
There are also poems on the containers and I was delighted when I heard that my poem 'Albatross' (from The Glass Rooster') has been included. You can listen to 'Albatross' here on RNZ. It's based on a real-life female pair, not uncommon in the seabird world.
Thanks to Masterton woman, Chris Daniell, you can now enjoy outdoor poems all over Masterton. Go, Chris!
The Meow Gurrls are heading up to Carterton for Wai Word next month and we'd love to see you there.
Check out the latest Meow Gurrrls videos from fantastic poets Mary Macpherson, who is unwilling to click 'I forgot my password' and Mary-Jane Duffy, who tells us about the hallways of love or browse through our catalogue. We'd love you to subscribe to our channel. https://www.youtube.com/channel/UCOy99S1t-ZH1dW12RIy4tRQ
Very excited to see that the AUP New Poets series is cranking up again. This is such a great poetry series and I'm delighted to be a part of it (I was in AUP New Poets 3, back in 2008). It's a great way to get to know new voices and I'm so pleased Auckland University Press is relaunching it. There's a New Poets 5 coming out later this year (with a fresh, new look) and a New Poets 6 in the making too! The wonderful Anna Jackson (who featured in AUP New Poets 1) is editing.
Carolyn de Carlo, one of the AUP New Poets 5 authors, has arranged a reading of past and present "New Poets" at Millers O'Brien gallery in Victoria St. in Wellington (1/85 Victoria St, upstairs, near the Lido) this Tuesday 18th June 2019 at 6:00pm. I'd love to see you there. Here are the deets from Food Court:
"Food Court is proud to present their latest event, an evening of readings by Auckland University Press writers who have been featured in the New Poets series, relaunching with Vol. 5 in August 2019. Consider this a sneak preview of what will be on offer in Vol. 5 and beyond, and a look back at some absolute bangers from over the years.
Current Lineup:
Carolyn DeCarlo
Sophie van Waardenberg
Rebecca Hawkes
Chris Tse
Janis Freegard
Anna Jackson
+ a few surprises!
There is a working lift at the gallery, but there will be limited seating available (8-10 chairs). Please arrive early if this applies to you, or let us know ahead of time, and we will do our best to accommodate all needs and circumstances!"
Here's the list of AUP New Poets to date:
AUP New Poets 1: Raewyn Alexander, Anna Jackson, Sarah Quigley
(currently listed on Amazon for $149.50 for a used copy (!!!), so clearly a collector's item)
AUP New Poets 2: Stu Bagby, Jane Gardner, Sonja Yelich
AUP New Poets 3: Janis Freegard, Katherine Liddy, Reihana Robinson
AUP New Poets 4: Harry Jones, Erin Scudder, Chris Tse
AUP New Poets 5: Carolyn de Carlo, Sophie van Waardenberg and Rebecca Hawkes
One of the first poems I ever had published was 'When You're Not Here'. It originally appeared in 'Eat These Sweet Words: the New Zealand Anthology of Lesbian and Gay Poetry' by Publishing Giant Press in 1999. Next, it appeared in my collection, 'The Glass Rooster' (AUP, 2015). Now, here's a clip of me reading it on the Meow Gurrrls Youtube channel. Please feel free to like, share, subscribe to our channel. (Mask by Sally of Masquerade; bird claw earrings by Tomas Richards)