You are currently browsing the category archive for the 'poetry' category.
Memory of sun ebbs from the heart.
Memory of sun ebbs from the heart.
Grass fades early.
Wind blows the first snowflakes
Barely, barely.
Freezing water can't flow
Along these narrow channels.
Nothing happens here, oh
Nothing can happen.
A willow against the sky
Spreads its transparent fan.
Better perhaps, if I
Hadn't accepted your hand.
Memory of sunlight ebbs from the heart.
What's this? Darkness? Perhaps! …
In the night
Winter has overcome us.
Translated by A. S. Kline © 2005, 2012
Anna Akhmatova (the pen name of Anna Andreyevna Gorenko, 1889 – 1966) was a Russian modernist poet.  Her work often dealt with the difficulties of living under Stalinism, during which two of her husbands were killed and her son jailed.  Her poetry was banned by Stalinist authorities for decades.
There are more Tuesday Poems here.
CHANT FOR THE RETURN HOME
The seven seas aren't what we thought they would be
packed to the gunnels with rum and rebellion.
Our tall ships fly home, flat tack in the wind.
We'll alight and seek life in the tussocky rocks,
seek fewmets and footprints and niblets of spoor.
With no forest for shelter we'll bivouac in the wind.
Tough trees lie flat; they clutch at the cliffs,
the grasses grow grasping and desperate —
nothing withstands the impact of the wind.
We grab hands and race for the deepest cave
hoping to lie in the light of our warmth
with the ghost of our hope left intact by the wind.
But gone means gone — we can't sail back on the wind.
The black dog's ears go flat in the wind.
[First published in The Ghazal Page, 2012(1).]
Mary Cresswell is a poet and science editor who lives on New Zealand's Kapiti Coast.  Originally from Los Angeles, her writing has been published widely in New Zealand, Australian, Canadian, US and UK literary journals. Her poetry collection Trace Fossils (first runner-up for the inaugural 2008 Kathleen Grattan award) was published by Steele Roberts in 2011 and her collection of satiric verse, Nearest and Dearest, in 2009.  Mary was also one of four poets who co-authored Millionaire's Shortbread (University of Otago, 2003).
This week's poem is a ghazal (sounds like guzzle) – originally an ancient Persian form.
The Guardian has this to say:
"The strict ghazal is composed of five or more regular couplets. The couplet is called a sher, and must be self-contained. The second line of each ends with a refrain of one or a few words, known as the radif. This is preceded by the rhyme, the qaafiya. In the first couplet both lines end in the rhyme and refrain, so the rhyme scheme is AA BA CA, etc. The last sher contains the poet's signature, his name or a variant thereof."
Modern poets writing in English have experimented with the form (Mary's is a tercet ghazal with a deliberately empty line in the last stanza) but it's probably fair to say that most consist of self-contained couplets, often exploring themes of love and mysticism.
Mary is editing the next issue of The Ghazal Page  (see her Call for Submissions which I posted recently).
More Tuesday poems here, where you can also watch the jointly written third birthday poem unfolding.
Ghazals are welcomed for a special challenge issue of The Ghazal Page (ed. Gene Doty) (www.ghazalpage.net) on the theme WATER. Guest editor for this issue is Wellington poet Mary Cresswell; 15 April – 31 May 2013 submission dates. Please use the journal's contact link (see below).
Mary says:
Look for inspiration from water, wherever it is, whatever it's doing and who/what it's doing it to – storms, glaciers, ships and steam engines, boiling into an undersea trench, springing from desert rock, falling as snow. Big surf. Tears. Dark streaks down the sides of subway tunnels. If water could speak we might know why it's always moving… Perhaps use water-words as a radif – perhaps tercet (rather than couplet) ghazals – consider Arabic as well as Persian forms. Ghazals can be unpublished or published (give details of previous publication as well as permission for use).
To prime your skill with the ghazal form, check through the excellent collection of essays and articles on the The Ghazal Page website. Also see Carol Rumens' Guardian article http://www.guardian.co.uk/books/booksblog/2008/mar/17/aglutofghazals, introducing ghazals by Mimi Khalvati. To see how the form can vary, read Natasha Trethewey's 'Miscegenation' (http://www.cstone.net/~poems/miscetre.htm ) and Thomas Hardy's 'The Mother Mourns' (http://www.daypoems.net/plainpoems/1017.html ).
Please submit (http://www.ghazalpage.net/ information/submitting.html) between 15 April and 31 May 2013, and follow the journal submission instructions. Subject line: "Water issue".
News in Brief: the boys are still winning; the girls haven't yet caught up.
Since 2008, I've been looking at the Journal of Commonwealth Literature's annual summary of what was published in New Zealand the previous year.  Despite a general perception that more female poets are being published here, it's actually the other way around.  Here's a little table showing that, in each year since 2008, male poets account for around six in every ten poetry books published in New Zealand; female poets for about four.
| | | |
| --- | --- | --- |
| |           F |           M |
| 2008 | 36% | 63% |
| 2009 | 43% | 57% |
| 2010 | 42% | 58% |
| 2011 | 43% | 57% |
Where it gets interesting, is breaking the books into those published by "larger" poetry publishers (and in here I've included AUP, VUP, Steele Roberts & Random House – who put out Hone Tuwhare's collection in 2011) and those published by smaller presses (such as Headworx, Seraph Press, Titus and Earl of Seacliffe).  Women outnumber men at the larger presses (18 female poets and 15 male poets in 2011), while men outnumber women at the smaller presses (9 female poets and 22 male poets in 2011 + one person I couldn't put into a gender box from their initials).  So that probably explains why people have a sense that more women are being published.  It would be interesting to look at sales figures too.
Previous posts on the matter:
http://janisfreegard.com/2012/04/03/poetry-gender-in-new-zealand-publishing-2008-2010-4/
http://janisfreegard.com/2011/07/29/poetry-gender-in-new-zealand-publishing-part-2/
http://janisfreegard.com/2010/02/06/poetry-gender-in-new-zealand-publishing/
Disclaimer: I haven't checked all the books listed by the Journal of Commonwealth Literature, but I did notice they had included at least one novel on their list of poetry books (which I omitted from the analysis) – Mark Stephenson's No Second Chance.
And because this is the internet, here is a picture of a cat.
Well, the Alice Spider book from Anomalous Press is fast becoming a reality.  You may have met Alice before, but this will be the most Alice there's ever been in one place.  This is how she will look:
The stunning artwork on the cover is by Kristen Necessary.
There is one last hurdle.  The lovely people at Anomalous Press are making six chapbooks altogether (small collections of poetry, of up to 40 pages) as a labour of love and have launched a Kickstarter campaign to get the funds together for printing.  They need $US5,000.  If you would like to support them – and receive books, postcards and other goodies in return (this is  a pre-order type deal rather than a charity drive) – here's where you can pledge the amount you would like to pledge and a description of what you will receive.  Yes, I've already put my money where my mouth is, and huge thanks to everyone else who is supporting the campaign.
The Kickstarter link shows all the chapbooks being published and they look great!
Tuesday Poem – Cactus by Janis Freegard
I've uploaded a video of me reading my poem Cactus on to my Blogger blog.  Cactus was  published in Landfall last year. You can check out the other Tuesday poems by clicking on the quill to the left.
Safe at Home
Night, and there is nothing outside my bedroom window
No red corrugated iron shed, by day ringing with the sound of Dad's tools
No aviary of zebra finches peeping into the kitchen window below
No fairy flowers on the fuchsia, no posies on the hydrangea
No washing line to swing from, kicking the top of Dad's birthday kowhai
No swing of thick grey pipes from the council tip, carrying me high enough to reach the wash-house roof
No square of lawn piled high with leftover wood, sometimes a princess's castle, sometimes a pirate ship
No outside toilet populated by whirling dervish daddy-long-legses
No hole in the side fence where I slip past the leathery taupata to visit Jeannie, who feeds me chocolate cup cakes and Robinson's lime cordial when Mum is in hospital
No hill where the Governor-General lives surrounded by pine trees; where a Bad Thing happened to a lady so we are forbidden to play in the spicy darkness with the cushioned floor; where the policemen check up on you if you do
It is night so there is nothing outside my bedroom window.
Except, of course, for passing spaceships flashing their comforting red and green lights.
Welcome to the first Tuesday poem of 2013!  This week's poem is from the recently launched collection 'My Family and Other Strangers' by Laurice Gilbert.  Laurice says:
"The poem is based on a memory I have of a childhood night when I couldn't sleep and I got up and played with my paper dolls (I'd have been about 7 or 8). In those days there wasn't much light pollution, and it was very dark outside. I saw the flashing lights off in the distance just before Mum came in and told me to go back to bed."
I enjoy the way this poem evokes childhood memories and preoccupations, and I especially like the comforting spaceships.
Laurice Gilbert is President of the New Zealand Poetry Society, and has had poems published in many journals and anthologies such as Island (Australia), The Book of Ten (UK),  Shot Glass Journal and Fib Review.  'My Family and Other Strangers', Laurice's first collection, is available from: http://www.poetrysociety.org.nz/mf%2526os   As well as reflecting on childhood, family and parenting, Laurice's collection includes a section on Vincent van Gogh.
A selection from The Continuing Adventures of Alice Spider is now available as a limited edition hand-made pamphlet, published by Anomalous Press and featuring line drawings by Jill Kambs.  It's available from Vamp and Tramp booksellers in the States ($US45).  More adventures for Alice coming soon!
Rona remembers sorrow
He covers my eyes with his downy pelt,
he rolls me into his marsupial pouch.
I taste the dirt and tang of earth and sex.
My heart lies thumping in its cage.
Now and then I stick my neck out
and deflect my lover's prowess.
He shudders his love into me, knowing
I am absent.
He strokes me as if I were made of feathers
and hollow bones, as if I were the only
fragile invention.
We both know there is nothing to be done.
In a swivel of space I see
half of earth.
She moves in a daze, understanding
only the animals.
She is wondering if she will make it to the
millennium party.
She coughs
like in the old days.
For this I stick my neck out.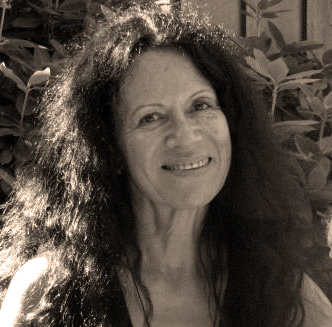 A couple of weeks ago,  I went to the Skyline in Wellington (top of the cable car, stunning views of the harbour) for the launch of Reihana Robinson's new poetry book, Auē Rona, published by Steele Roberts.  There was wonderful poetry, delicious food, fine company and a most entertaining speech by Roger Steele who pointed out that all three winners of the PM's literary awards this year (Sam Hunt, Greg O'Brien and Albert Wendt) are poets.  There was even the chance to buy one of Noa Noa von Bassewitz's woodcut prints, which feature in the book (and yes, there's now one on our wall).  It was lovely to meet Reihana, finally.  We featured together in AUP New Poets 3 in 2008, but had never actually met.
Auē Rona is a re-telling of the legend of Rona and the moon, but it's also more than that.  These are poems of love, grief and defiance, poems that move from the moon to Cape Reinga, to the wider Pacific.  In her notes to the collection, Reihana writes:
"The traditional story of Rona and the moon opens as she is collecting water for her children. A cloud covers the moon; she falls, spilling the water, and she curses. As punishment she is torn from earth and taken to the moon, still clutching her calabash and holding a ngaio tree.  Auē Rona. Oh Rona. Oh grief. Oh sorrow."
Reihana Robinson's writing has also been published in a number of journals including Landfall, Cutthroat, Hawai'i Review, Trout, Melusine, JAAM,  Takahe, Cezanne's Carrot and Blackmail Press.  She lives in the Coromandel. You can listen to a Radio NZ podcast featuring Reihana here and visit her website here.
Flax, Tui
you can see they belong together:
the upthrust floral tube
clearly shaped to fit a bill
pollen-dusted anthers
tantalising on slender filaments
the stem yields under the weight
as she lands with a fluster
white bow-tie shining against her breast
she plunges into the burnt orange
takes her fill
I spent last weekend at a highly enjoyable and productive poetry workshop led by Vivienne Plumb and attended by a lovely group of fellow poets.  This is what I wrote after our nature walk exercise.
Don't forget to check out the other Tuesday poems.